PV–Grid–Battery: This series PV inverter design for photovoltaic(PV) and Grid sharing function, solar priority, photovoltaic through the MPPT controller supply to the inverter, and outputs a pure sine AC to loads, meanwhile charging the battery pack; When the solar is not enough to supply the load, it is supplemented by the grid power; utmost use solar energy and grid power, to reduce battery discharge, external battery life span.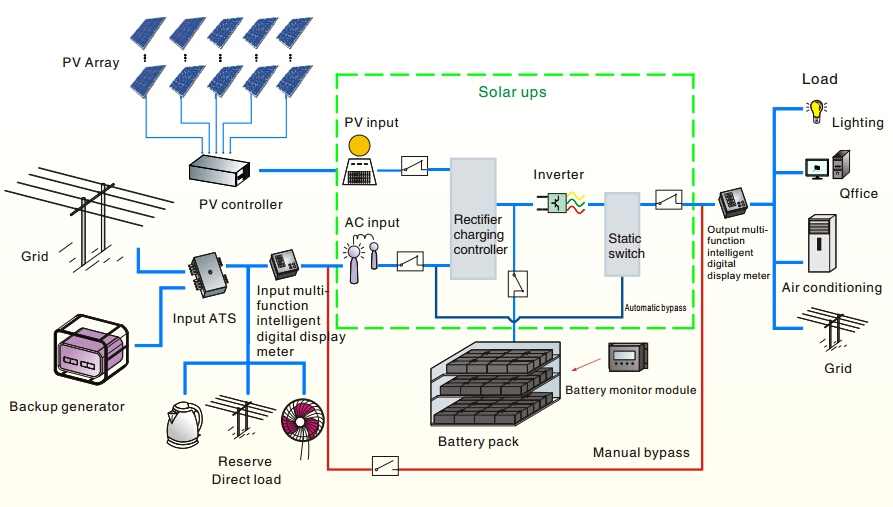 LCD touch screen for visualization of operation
Pure sine wave output for different types of loads
External MPPT solar charge controller
A wide range, high accuracy and full automatic voltage stabilization
Intelligent optimization SOC control and independent three-stage PV charge management for battery to improve charge efficiency
Overall protection functions (battery overcharge protection, battery under voltage protection, overload protection, short circuit protection and over temperature protection)
Main supply priority mode, saving mode and battery priority mode are all settable, thus making it easy to meet the different application need of users
---
A PROFESSIONAL FACTORY
Foshan Sunremain Technology Co.,Ltd is an national creative high-tech enterprise, specialized in R&D, manufacturing and marketing of high reliable off grid solar inverters, power inverter mppt solar controllers, ups systems and solutions. Our factory has passed ISO quality management system certification.
We try our best to meet customers' expectations in terms of product quality, customer service and on-time delivery, strictly following the principles of "faithfulness, passion, professional care" and "mutual benefits". "Sunremain", a believable brand, will provide you with the best quality, the lowest price, punctual shipment and cordial service.