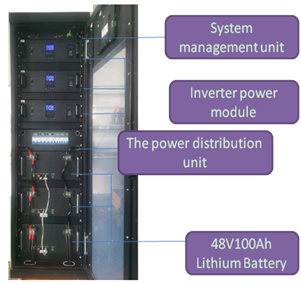 Modular design of power supply, up to 9 parallel output, up to 45kW
Power supply module can be configured flexibly with single-phase or three-phase output
The module is compatible with photovoltaic input, and the maximum photovoltaic power
of single input is 4500W

Touch screen display, friendly man-machine interface, centralized management, easy maintenance,
to ensure the safety of lithium battery

A single module can be managed management, easily expanded
Completed systems support multiple parallel connections to meet capacity expansion requirements
Reliable, professional energy management system, three-stage charging function, compatible with
Different kinds of lithium iron batteries

The charging current can be adjusted according to various battery capacity
It has long cycle life, stable power supply and high reliability
---
A PROFESSIONAL FACTORY
Foshan Sunremain Technology Co.,Ltd is an national creative high-tech enterprise, specialized in R&D, manufacturing and marketing of high reliable off grid solar inverters, power inverter mppt solar controllers, ups systems and solutions. Our factory has passed ISO quality management system certification.

We try our best to meet customers' expectations in terms of product quality, customer service and on-time delivery, strictly following the principles of "faithfulness, passion, professional care" and "mutual benefits". "Sunremain", a believable brand, will provide you with the best quality, the lowest price, punctual shipment and cordial service.