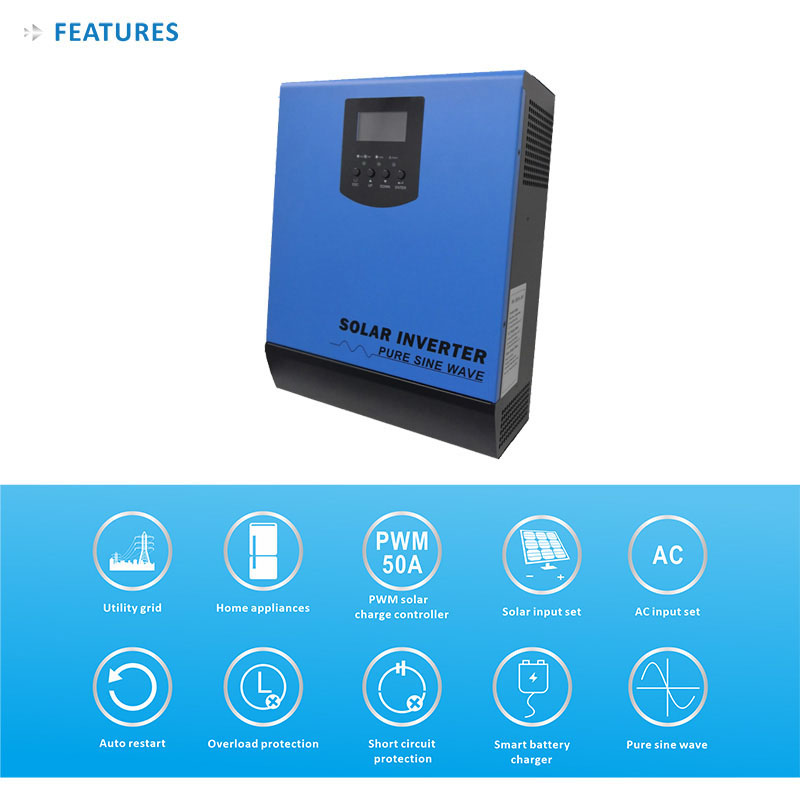 1. Perfect sine waveform output
(Specially designed to start up inductive loads such as refrigerators, motors, pumps, compressors and laser printers as well as electronic loads like TVs, Computers, power tool,etc.)

2. Built-in 50A PWM solar charge controller.

3. Built-in AC charger 20A or 30A or 60A

4. Selectable AC input voltage: 170V-280V,90V-280V @50Hz/60Hz Auto Sensing

5. Cold start functionality (Be able to give output with full load connected without AC mains present.)

6. AC and solar input priority can be manually configurated.

7. Compatible to AC mains input and generator voltage input.

8. Transformer-less design provides reliable power conversion in compact size.

9. Equipped with PWM solar charge controller to maximize and regulate DC power from the solar array for charging the battery bank.
---
A PROFESSIONAL FACTORY
Foshan Sunremain Technology Co.,Ltd is an national creative high-tech enterprise, specialized in R&D, manufacturing and marketing of high reliable off grid solar inverters, power inverter mppt solar controllers, ups systems and solutions. Our factory has passed ISO quality management system certification.

We try our best to meet customers' expectations in terms of product quality, customer service and on-time delivery, strictly following the principles of "faithfulness, passion, professional care" and "mutual benefits". "Sunremain", a believable brand, will provide you with the best quality, the lowest price, punctual shipment and cordial service.